Keep your eyes open!...
---



July 31, 2012





(Jud 1:3-6)

Dearly beloved, taking all care to write unto you concerning your common salvation, I was under a necessity to write unto you: to beseech you to contend earnestly for the faith once delivered to the saints. For certain men are secretly entered in (who were written of long ago unto this judgment), ungodly men, turning the grace of our Lord God into riotousness and denying the only sovereign Ruler and our Lord Jesus Christ. I will therefore admonish you, though ye once knew all things, that Jesus, having saved the people out of the land of Egypt, did afterwards destroy them that believed not. And the angels who kept not their principality but forsook their own habitation, he hath reserved under darkness in everlasting chains, unto the judgment of the great day.





MEDITATION

: Thoughts by St Theophan (1815-1894)

[Heb. 4:1-13; Luke 21:12-19]

And ye shall be hated of all men for My name's sake. He who breathes even a little of the spirit of the world into himself becomes cold to Christianity and its demands. This indifference turns into dislike when one remains in it a long time without coming to one's senses, and especially after picking up somewhere a particle of some false teaching. The spirit of the world with its false teachings is a spirit of disliking Christ: it is of the antichrist. It is the spread of hostile attitudes toward the Christian confession and Christian traditions.

Apparently something like this is happening around us. So far only hollow roars are sounding everywhere; but it will not be surprising if soon the Lord's prophesy will begin, that, they shall lay their hands on you... and persecute you... ye shall be betrayed... and cause you to be put to death. The spirit of antichrist is always the same; what was in the beginning will be now, perhaps in another form, but with the same meaning. What should we do? In your patience possess ye your souls. Be patient, with a firm word of confession of the truth in your mouth and in your heart.



COURAGEOUS PRIEST

: "Viciously Anti-Gay" Bishop Appointed to San Fransico Diocese



AMERICAN FAMILY ASSOCIATION

: Back-To-School: Where families shop (and don't)

August means Back-To-School spending for families. Christian families appreciate companies that use Biblical principles to direct their business practices. For example, AFA applauds Hobby Lobby and Chick-fil-A for honoring God in all they do.

Unfortunately, some companies use their influence to promote social agendas that undermine family values.

While AFA does not maintain a comprehensive list of companies, and their practices, we want to let you know about three stores your family might specifically choose to avoid.

By clicking on the company name below, you can see our most recent AFA Action Alert on the individual company.

OFFICE DEPOT - Office Depot recently announced it was donating $1 million dollars to recording artist Lady Gaga's Born This Way Foundation. Office Depot is helping push the homosexual agenda in public schools by encouraging our children to falsely believe people are born "gay."

J.C. PENNEY - Penney's aggressive national campaign to promote "gay" marriage began with the hiring of Ellen DeGeneres as the official company spokesperson. It followed up with full-page ads featuring lesbian and gay couples during Mother's Day and Father's Day promotions.

SEARS - Despite multiple denials by the company, Sears continues to offer hard-core pornography, including sadomasochism, bondage, and X-rated products on its website. On July 27, AFA documented dozens of pornographic products available on Sears' website.



AFA LINK

: Announcing the Chick-fil-A Appreciation Day on August 1



CNA

: Vatican daily slams 'confused' Gates Foundation policies


Thoughts and Sayings of Saint Margaret Mary: Peace- Trust- Abandonment

30. Should you find yourself overwhelmed by fear, cast yourself into the abyss of the unshaken confidence of the Sacred Heart, and there your fear will give place to love. If you find yourself frail and weak, lapsing into faults at every moment, go to the Sacred Heart and draw from It the strength which will invigorate and revive you.

July 27, 2012
THE TRIB TIMES WILL RETURN NEXT WEEK, GOD WILLING (James 4:15).


(Mat 25:37-40) Then shall the just answer him, saying: Lord, when did we see thee hungry and fed thee: thirsty and gave thee drink? Or when did we see thee a stranger and took thee in? Or naked and covered thee? Or when did we see thee sick or in prison and came to thee? And the king answering shall say to them: Amen I say to you, as long as you did it to one of these my least brethren, you did it to me.


ACN NEWS HEADLINE:
Fear and Loneliness in Syria



HISTORY OF AID TO THE CHURCH IN NEED

: http://www.churchinneed.org/site/PageServer?pagename=AU_Our_Mission_ACNs_History_Continued



NEWS RELEASE (12/11)

: "Aid to Church in Need" becomes a Pontifical Foundation


Dear Friend,
"So many people, especially families, forced to flee from their own homes, threatened by armed conflicts and by grave forms of violence." - The Holy Father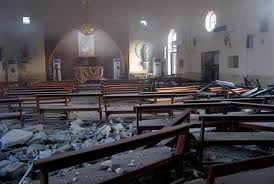 These words from the Holy Father are being lived right now by our fellow faithful in Syria. We have just received an urgent appeal from the Church there for emergency aid to help rescue 500 families from Homs who were forced to flee the violence and chaos now happening in their country. Terrified families fled with only the clothes on their backs—there was no time to pack food or medicine or even children's toys.


Right now, these 500 refugee families from Homs are seeking refuge in the Christian town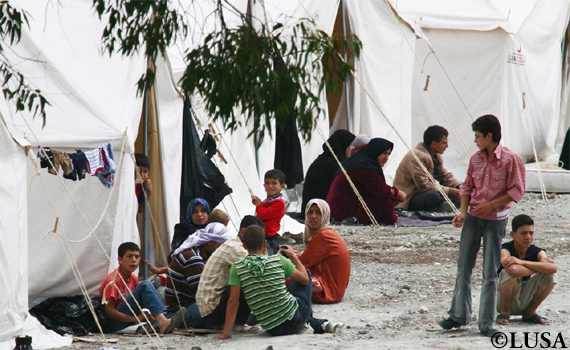 of Marmarita, near the Lebanese border. The Church is their only hope. "Christians are in a desperate situation," said His Beatitude Ignatius Joseph III, Patriarch of the Syrian Catholic Church. He is doing all he can to provide for these poor men, women and children, who are displaced and dejected, tired and terrified. But the need is great. Please help today.

A gift of $30 will supply one family food for a month; $90 will provide food for a family for six months; $10 can provide needed medicine for a sick and frightened child, while $150 could help provide temporary housing. Your gift now will help bring aid and hope to those who have nothing, and let them know that we, their fellow Christians, stand with them and witness their suffering


We have pledged $100,000 to help these families.
Will you help us fulfill our goal? Donate Now

Please take action today and let these refugees know they are not alone. You can:



| | |
| --- | --- |
| Have Masses celebrated by priests who have stayed in Homs; stipends they can use to survive the upheaval and violence there and assist faithful. | |
| Make a donation that will help care for the 500 Christian refugee families. | |
| Light a Candle for all refugees around the world. | |

Thank you in advance for reaching out to help our suffering brothers and sisters, through your support and prayers. Let us all pray that the Love and Light of God will overcome the violence and persecution faced by Christians today.

May God bless you for your compassion and caring,


Prayerfully,
Father Hugh Barbour




Spiritual Director

Edward Clancy
Director of Outreach




Thoughts and Sayings of Saint Margaret Mary: Peace- Trust- Abandonment

29. Know that He wishes more love than fear from you. Therefore, abandon yourself to His love, and let him act in you, with you and for you, according to His desire and good pleasure.





July 25, 2012





(Rev 12:10-12)

And I heard a loud voice in heaven, saying: Now is come salvation and strength and the kingdom of our God and the power of his Christ: because the accuser of our brethren is cast forth, who accused them before our God day and night. And they overcame him by the blood of the Lamb and by the word of the testimony: and they loved not their lives unto death. Therefore, rejoice, O heavens, and you that dwell therein. Woe to the earth and to the sea, because the devil is come down unto you, having great wrath, knowing that he hath but a short time.





CNA

: American exorcist-in-training shares his experience



CRISIS MAGAZINE

: A Religious Response to the Colorado Killings by Rev. Michael P. Orsi

A weekend has passed since twelve people were killed and fifty-eight were wounded in Aurora, Colorado, by alleged gunman James Holmes. Throughout the period I searched the mainstream media for statements from America's religious leaders that might help people make sense of the tragedy. The closest I came to finding any pastoral contribution was in the form of therapeutic religion. Pastors called for remembrance of the victims, solidarity with their families, asked for prayers and encouraged people to have faith. These are all well and good, but, didn't President Obama do as much? As a matter of fact, the President was referred to by some reporters as fulfilling his ministry as "the consoler and chief." Isn't this the job of the priests, ministers and rabbis'?

The following are some of the things that should have been heard in America's churches this past Sunday:

Firstly; evil is a reality. Because of Original Sin we live in an imperfect world. In the Book of Genesis we read of Cain murdering his brother Abel. The Bible attributes his action to a sin of jealous rage. Could this also be construed as insanity? Certainly! Furthermore, because of Original Sin, Cain's free will may have been impaired leading to a distortion of reality. Mental health experts will make this determination based on empirical data in Holmes' psychiatric evaluation. But, couldn't pastors suggest that Holmes' actions may have been spiritual in their origin?

Secondly; there is the demonic factor that needs to be reckoned with here. Demonic possession is widely attested to in the Bible. As a matter of fact we often see Jesus acting as an exorcist casting out demons. Today Satan's presence is often discounted as superstition. This attitude marginalizes one of Jesus' most important ministries. It promotes a secular world view which depends on the social sciences which are often woefully inadequate for the answers to life's questions.

Thirdly; faith has become a rather nebulous term, faith in what or in whom? After all, many people today consider themselves to be spiritual though not religious. In the present case, faith has been used to mean some generic belief in the goodness of the American people. This secular faith in ourselves fails to produce any lasting consolation and it puts us on rather shaky ground. The fact is that Americans as individuals or as a nation have not always acted righteously, making faith in them rather tenuous.

Fourthly; true consolation can only come from the love of a personal God. The Bible is specific about God's concern and care for us. For Christians God's action in the Resurrection of Jesus is the ultimate consolation. The Resurrection should have been proclaimed loudly from every pulpit. Its message is that God can bring life out of death and goodness out of tragedy.

Fifthly; this tragic event should have been an occasion to remind people of how fragile life is and how death often comes unexpectedly. It provides pastors with the opportunity to speak of the importance of being in the state of grace at all times.

And, finally; this incident is a reminder that we are called to pray for the souls of the dead. It is our Catholic belief in Purgatory that requires us to pray for the faithful departed who may need purification before they can enter heaven.

I wonder how many heard any of these points mentioned in their churches over the weekend. I can only pray that the media, for the sake of political correctness, just ignored the Truth that was preached. And, that America's pastors rose to the occasion.

What was said in your church about the Colorado tragedy. Were you satisfied?

EXCERPT ANN BARNHARDT BLOG: I don't think Holmes is insane per se. Holmes was able to function in graduate school in a very complex field: neuroscience. He had no criminal history up to this point. People who are insane cannot function in society. Words have meaning - don't let the Marxist media twist words.

I think Holmes is demonically possessed, and that we should all expect to see things like this happen with exponentially increased frequency as satan reacquires the formerly consecrated landmasses of Christendom, namely North America and Europe.

Holmes engaged in at least two activities which are massive "gateways" to demonic possession. Holmes was a drug user, and he consumed pornography. Now, you may be thinking that people have been smoking weed and looking at porn for forty years in the U.S. and it didn't cause them to be demonically possessed or go shoot up a movie theater. In fact, judging by my readership demographics which is mostly men aged 45-75, I'll bet many of you reading this both smoked weed and looked at porn when you were younger.

The difference now, and why you were able to maybe "get away" with those sins back in the '60, '70s and '80s is because this landmass was still consecrated ground back then. God was still shedding His grace on us, and we were very much supernaturally protected from the demonic. Even when people would do things like get high on drugs or look at porn, thus throwing open the doors of their hearts to evil, full-on demonic possesion almost never happened because we were being defended.

Not so any longer. This nation and culture has officially told God to get the hell out, and ever the Gentleman, He has indeed withdrawn His overarching, aggregate protection. At this point, many might say, "How could a loving God possibly withdraw Himself and allow satan to destroy people's lives?"

I would answer with another question: How could a loving God NOT withdraw? How could a loving God NOT exact justice? How could a loving God continue to REWARD a group of people who HATE HIM, and who relish in evil themselves? How could a loving God not chastise those whom He loves? How could a loving God not honor the sovereignty of mankind, since sovereignty and personal freedom is absolutely required for man to love God in return? If we tell God that we hate Him, or are completely indifferent to Him, how could He, loving us infinitely as He does, NOT withdraw, knowing how far gone we are, that the only way we will ever repent is to see what the absence of Him looks and feels like?

If you haven't read the Old Testament, read it now. The previous paragraph is pretty much the Cliff's Notes of the Old Testament. You simply cannot understand the New Testament without having a thorough knowledge of the Old Testament. Conversely, the Old Testament not only becomes clear, but becomes incredibly instructive and consoling when read and understood through the lens of the New Testament.



RELATED

: Evil By Any Other Name

POPE JOHN PAUL II: "The limit imposed upon evil is ultimately Divine Mercy".


Thoughts and Sayings of Saint Margaret Mary: Peace- Trust- Abandonment

28. Keep your soul always in peace, with love and trust in our Lord, and- I repeat- remember what you have promised Him, that is to say, undivided love, persevering humility and generous mortification. This is what you owe to the Sacred Heart of Jesus.



July 24, 2012



(Sirach 3:17-24) My son, perform your tasks in meekness; then you will be loved by those whom God accepts. The greater you are, the more you must humble yourself; so you will find favor in the sight of the Lord. For great is the might of the Lord; he is glorified by the humble. Seek not what is too difficult for you, nor investigate what is beyond your power. Reflect upon what has been assigned to you, for you do not need what is hidden. Do not meddle in what is beyond your tasks, for matters too great for human understanding have been shown you. For their hasty judgment has led many astray, and wrong opinion has caused their thoughts to slip.



FEAST OF ST. SHARBEL MAKHLOUF (1828-1989)

Today's saint was born into a Maronite Catholic family in Lebanon. He left home when he was twenty-three in order to enter a monastery and imitate the desert fathers of the early Church. He became a hermit and dedicated himself to prayer and fasting in solitude. A series of miraculous events followed his death. For over forty days after his burial a bright light shone around his grave and when his body was exhumed it was found to be incorrupt. People flocked to his grave asking for his intercession and hundreds were healed, including many Muslims. Pope Paul VI beatified him a few days before the closing ceremonies of the Second Vatican Council. As we read his words at that time, let us pray that there may be employment for all and that Christian volunteers in mission lands may witness to Christ through the practice of virtues.

Here that at the end of the Second Vatican Ecumenical Council, a hermit of the Lebanese mountain is numbered among the beatified, the first confessor of the East to be raised to this honor according to the current procedure of the Catholic Church. What a symbol of the union between the East and the West! What a sign of the ecclesial brotherhood among the Christians of the entire world! …

This holy monk reminds us of the indispensable role of prayer, hidden virtues, and mortification. In a world that is largely fascinated with riches and comfort, he helps us understand the irreplaceable value of poverty, penance, and asceticism to liberate the soul in its ascent to God. Of course, the practice of these virtues varies according to the state of life and the responsibilities of each, but no Christian can exempt himself from them if he wants to follow Our Lord.



ONLINE FULL LENGTH MOVIE

: Saint Sharbel - The Movie - [English subtitles] - YouTube



LINK

: Official website of the monastery Saint Maron - Annaya Tomb of Saint Charbel



EXCERPT

: On the evening of his funeral, his superior wrote: "

Because of what he will do after his death, I need not talk about his behavior

". A few months after his death a bright light was seen surrounding his tomb. The superiors opened it to find his body still intact. Since that day ablood-like liquid flows from his body. Experts and doctors are unable to give medical explanations for the incorruptibility and flexibility. In the years 1950 and 1952 his tomb was opened and his body still had the appearance of a living one.



MIRACLE REPORT VIA SPIRITDAILY.COM

: I'm Here Waiting For You Every Day by Jane Monica Spurrier



St Sharbel, Pray for us! Pray for peace in the Middle East, particularly Syria!




Thoughts and Sayings of Saint Margaret Mary: Peace- Trust- Abandonment

27. Let us have no further reserve with Him; let us abandon to Him all that we are, without anxiety about the future, not reflecting on ourselves and our incapacity.



July 23, 2012



(1Pe 3:8-9) And in fine, be ye all of one mind, having compassion one of another, being lovers of the brotherhood, merciful, modest, humble: Not rendering evil for evil, nor railing for railing, but contrariwise, blessing: for unto this are you called, that you may inherit a blessing.





HEADLINE

: Syrian Catholic leaders call for united efforts by world community



FIDES.ORG

: The Maronite Archbishop of Damascus: "It is an apocalypse, we await the resurrection"

In the dramatic testimony sent to Fides, the Archbishop said: "Since Tuesday fighting has been raging in Damascus with heavy weapons, tanks and helicopters, in a city full of civilians. The destruction is enormous. What an ordeal! The clashes are taking place in the streets and moving from one district to another. I cannot sleep for fear and for the noise of bombs and gunfire. The temperature is above 40 ° and often there are power outages. There is insufficient supply in many areas, we are short of bread, vegetables, cooking gas and fuel for the furnaces. The population is terrified and does not know where to take shelter. The roads to Jordan, Iraq, to Aleppo and the north area of Homs are closed. You see a long snake of people fleeing on the road to Lebanon: an exodus that occurs in the general panic." Turning to the displaced of Damascus, the Archbishop says: "I hope you find a home, remembering that in the past, the Syrians welcomed the Palestinian, Lebanese and Iraqis refugees."

Mgr. Nassar continues: "the few faithful who had the courage to come to Mass lit many candles at the tomb of the Blessed Martyrs of Damascus. They exchanged greetings and tears, in fear of seeing each other for the last time, before returning home between gunfire and explosions." The violence that has torn the other cities of Syria had been spared in Damascus: "Now it is our turn to suffer and die. We have just built a shelter under the stairs, to escape the bombs and the cellars of the parish have been cleared up. It is an apocalypse: we hope that resurrection arrives soon, after much suffering."



MORE FROM FIDES.ORG



A nun from Damascus: "We pray that all ends, we have no faith in the revolution"

"In these armed actions and in this suffering - the nun continues - religion has nothing to do with it. With Muslims we have always lived side by side and we will continue to do so. The Syrian government has hitherto been secular, has guaranteed security and stability to Syria . Today we have only chaos, insecurity, and suffering. And what will happen tomorrow? But we know, as Christians, that God protects us and our hope is alive. And as Christians, we know for certain: we will never abandon Syria."

Islamist groups in action in Damascus: the victims are Christian civilians and Iraqi refugees

The Islamist rebel group "Liwa al-Islam" ("The Brigade of Islam"), that recently claimed responsibility for the killing of top generals of government Assad, this morning killed an entire Christian family in Bab Touma. Among the local faithful, reports a source of Fides, there is dismay and outrage at the assault on defenseless civilians. The militants of "Liwa al-Islam" blocked the car of a Christian, Nabil Zoreb, a civil officer, they told him, his wife Violet and two sons, George and Jimmy to get out of the car, killing them all point blank.



VISNEWS

: CCEE Declaration on Syria: Finding Space for a Dialogue of Peace



MORE MIDDLE EAST HEADLINES OF CONCERN



Iraq Insurgents Kill Nearly 100 After Declaring New Offensive
Syria says will use chemical weapons if attacked
Showdown looming with Syria, Hizbullah and Iran


Thoughts and Sayings of Saint Margaret Mary: Peace- Trust- Abandonment

25. Cast yourself often into His arms or into His divine Heart, and abandon yourself to all His designs upon you.



July 20, 2012

THE TRIB TIMES WILL RETURN NEXT WEEK, GOD WILLING (James 4:15).



(Joel 1:14-15) Sanctify ye a fast, call an assembly, gather together the ancients, all the inhabitants of the land into the house of your God: and cry ye to the Lord: Ah, ah, ah, for the day: because the day of the Lord is at hand, and it shall come like destruction from the mighty.





ARCHDIOCESE OF WASHINGTON

: To be lighthouse, we have to be light, even when the world prefers darkness by Msgr. Charles Pope

CRISIS MAGAZINE: Is America Coming Apart?



ARCHDIOCESE OF ARLINGTON

: Reclaiming the Practice of Fasting in Ordinary Time



MEDITATION

: Thoughts by St Theophan

[I Cor 7:12-24; Matt. 14:35-15:11]

Not that which goeth into the mouth defileth a man; but that which cometh out of the mouth, this defileth a man. The Lord said this not because He did not favour fasting, or because He considered it not necessary for us — no, both He Himself fasted, and taught the apostles to do so, and He established fasts in his holy Church; but He said this so that we would not only fast by eating little or only uncooked food, but rather so that we would keep the fast in our soul, not indulging it with desires and passionate inclinations.

And this is the important thing. Fasting serves as a powerful means for this. The foundation of the passions in the flesh; when the flesh is emaciated, then it is as if a hole is dug under the passions and their fortress is destroyed. Without fasting, overcoming the passions would be a miracle, similar to being in a fire and not being burned. How can he who profusely satisfies his flesh with food, sleep and rest, keep anything spiritual in mind and in his intentions? For him it is as easy to renounce the earth, to contemplate and strive for the invisible world, as would be for an old, decrepit bird to take flight and soar.


Thoughts and Sayings of Saint Margaret Mary: Peace- Trust- Abandonment

23. Rely entirely on God with perfect confidence in His goodness, which never forsakes those who, distrusting themselves, hope in Him.



July 18, 2012



(Mat 5:9)

Blessed are the peacemakers: for they shall be called the children of God.





HEADLINE

: Red Cross declares Syrian conflict to be civil war



SYRIA

- "The dangers are anarchy, weapons, interference; dialogue and reconciliation are necessary": Patriarch Gregory III Laham's appeal

As the Syrian crisis deepens, in front of what is now called a "civil war"; while "the language of violence prevails and the voice of moderation weakens" "efforts for dialogue and reconciliation are necessary": So says S.B. Greek Melkite Patriarch Gregory III Laham, in a statement sent exclusively to Fides Agency. The Patriarch, trusting in the spirit of the Syrian people, says: "The Syrians, thanks to their long history, can solve this dangerous crisis helping each other, through love and forgiveness. We launch an urgent appeal for dialogue, reconciliation, peace: this is one of the rarest languages that many people do not want to hear. We Christians, to whom the gospel of peace has been entrusted, feel called to promote it."

Analyzing the Syrian crisis, the Patriarch notes: "The greatest threat to Syria today is anarchy, insecurity and the influx of weapons from all sides. Violence begets violence, that reaches all citizens, without distinction of race, religion or political color." In this context, "Christians live the same dangers, but they are the weakest link. Helpless, they are the most vulnerable to exploitation, extortion, kidnapping, abuse. Despite this, there is no conflict between Christians and Muslims. There is no persecution, and Christians are not targeted as such, but are among the victims of chaos and lack of security."

Among the negative elements, according to the Patriarch, "there is the interference of foreign elements, Arab and Western, that bring arms, money and information in one way. This interference is detrimental to the so called opposition, and damaging to national unity, as it weakens the voice of moderation ".

As far as the attitude of the Churches is concerned, Patriarch Gregory III Laham says: "The Catholic Churches of all denominations, in Syria have raised their voices, demanding reforms, freedom, democracy, fight corruption, support for development, freedom of speech . Today we ask to stop the cycle of killings and destruction, especially against civilians in need, of all faiths, who in reality are the real victims. The Church has always shunned sectarianism, without taking sides, and pointing to the ethical and evangelical values." For this reason, he notes, a "campaign against the pastors of the Churches in Syria" is to be rejected, accused of collusion with the regime, reaffirming "the credibility, transparency, loyalty and objectivity of the Pastors who are in constant contact with priests, monks, nuns and lay people. " They, the note adds, "promote the call for dialogue and reconciliation, the rejection of violence. They work to protect the safety of civilians in the ongoing conflict, so as not to expose them to danger, to avoid becoming targets of attacks of one faction or another."

The Patriarch expressed, finally, "hope in civil society initiatives to strengthen the friendly ties between the Syrians that the conflict has destroyed. We pray for the success of the movement Mussalaha, where delegates are active in all the Churches, to bring unity and love in the hearts of all. This is what lays the foundation for effective solutions to the tragic conflict."

In this work, he concludes, "we need the support of the Pope and we hope that the forthcoming visit of the Pope in Lebanon will be of special help for Syria, so that the conflict may cease and the country may flourish. For this we ask the help of all our Christian brothers in the Middle East and around the world."



RELATED



Franciscans in Syria call for dialogue not weapons
Nuncio in Damascus calls on international community to help Syria out of hellish trap


Thoughts and Sayings of Saint Margaret Mary: Peace- Trust- Abandonment

22. Remain in peace, wholly given over and immolated to the Sacred Heart of our Lord Jesus Christ Who, I am sure, will never forsake you. He will take very special care of you, in proportion as you trust in Him, and abandon yourself with unswerving fidelity to Him, whenever there is a question of proving your love.



July 13, 2012



THE TRIB TIMES WILL RETURN NEXT WEEK, GOD WILLING (James 4:15).



(Jas 4:7-8)

Be subject therefore to God. But resist the devil: and he will fly from you. Draw nigh to God: and he will draw nigh to you. Cleanse your hands, ye sinners, and purify your hearts, ye double minded.





MEDITATION

: Thoughts by St Theophan

[I Cor. 3:18-23; Matt. 13:36-43]

And shall cast them (those who offend and do iniquity) into a furnace of fire: there shall be wailing and gnashing of teeth. Then shall the righteous shine forth as the sun in the Kingdom of their Father. Thus will be carried out the division of good and evil, light and darkness. Now is the period of time in which they are mixed. It pleased the Lord to arrange that the freedom of creatures should grow and be strengthened in good through the struggle with evil; evil is tolerated within the vicinity of inward freedom, and in contact with a person externally. It does not determine anything, only tempts.

One who feels a temptation must not fall, but enter into battle. He who conquers is freed from one temptation, and advances forward and upward to find new temptation there — and so on, until the end of his life. Oh, when will we comprehend this meaning of the evil which tempts us, so we might arrange our lives according to this understanding! The strugglers are finally crowned, and pass on to the other life where there is neither sickness nor sorrows from the outside, and where they become inwardly pure like angels of God, free from the sting of tempting inclinations and thoughts. This is how the triumph of light and good is being prepared, and it will be revealed in all of its glory on the last day of the world.



TRACT

: What You Can Do About Temptation! By the late Father Kilian McGowan, C.P.



CATHOLIC ONLINE

: Fighting the Good Fight: Resisting Temptation By Monsignor Charles M. Mangan



MORE FROM

A DESERT FATHER: "Abba Poemen said of Abba John the Dwarf that he had prayed God to take his passions away from him so that he might become free from care. He went and told an old man this; 'I find myself in peace, without an enemy,' he said. The old man said to him, 'Go and beg God to stir up warfare so that you may regain the affliction and humility that you used to have, for it is by warfare that the soul makes progress.' So he prayed to God and when warfare came, he no longer prayed that it might be taken away, but said, 'Lord, give me strength for the fight.'"



POPE BENEDICT XVI (03/06)

: "Upon meditating this passage of the Bible, we understand that to fulfill our life in freedom it is necessary to surmount the test that freedom itself implies, that is, temptation. Only if liberated from falsehood and sin, can the human person, thanks to the obedience of faith that opens him to truth, find the full meaning of his existence and have peace, love and joy."


Thoughts and Sayings of Saint Margaret Mary: Peace- Trust- Abandonment

21. Practice abandonment as regards your body, taking and accepting indifferently sickness or health, work or rest- abandonment as regards your soul, cherishing dryness, insensibility, desolation, and accepting them with the same thanksgiving as you would sweetness and consolation.



July 12, 2012



(Jud 1:17-23)

But you, my dearly beloved, be mindful of the words which have been spoken before by the apostles of our Lord Jesus Christ: Who told you that in the last time there should come mockers, walking according to their own desires in ungodlinesses. These are they who separate themselves, sensual men, having not the Spirit. But you, my beloved, building yourselves upon your most holy faith, praying in the Holy Ghost, Keep yourselves in the love of God, waiting for the mercy of our Lord Jesus Christ, unto life everlasting. And some indeed reprove, being judged: But others save, pulling them out of the fire. And on others have mercy, in fear, hating also the spotted garment which is carnal.



HEADLINE: Roman Catholic Church of Scotland declares 'war on gay marriage'

The leader of the Roman Catholic Church in Scotland and the most senior Catholic in the United Kingdom has declared "war on gay marriage," pledging to spend another £100,000 in its campaign against equal marriage rights for same-sex couples in Scotland.

Speaking in today's Sunday Times, Cardinal Keith O'Brien warned the Scottish Government that it will face an "unprecedented backlash" from the Catholic Church in Scotland if it goes ahead with plans to legalize same-sex marriage, claiming "marriage is under threat and politicians need to know the Catholic Church will bear any burden and meet any cost in its defense."

Previously Cardinal O'Brien has described same-sex marriage as a "grotesque subversion." In December, he said the introduction of Civil Partnerships had been a mistake, arguing the law should never "facilitate" same-sex relationships.

"These measures were not in the best interests of our society. The empirical evidence is clear, same-sex relationships are demonstrably harmful to the medical, emotional and spiritual well being of those involved, no compassionate society should ever enact legislation to facilitate or promote such relationships, we have failed those who struggle with same-sex attraction," O'Brien said.



CRISIS MAGAZINE

: The Harm of Same-sex Marriage in a Nutshell



COURAGEOUS PRIEST

: Nun Reveals Truth About LCWR Assessment

RELATED HEADLINES

THIS WEEK



Catholic priest who denied a lesbian Holy Communion at her mother's funeral leaves diocese
Episcopal Church becomes biggest US church to bless gay unions
Catholic Priest Admits 14-Year Gay Marriage, Says Forced Celibacy Leads to Abuse
Congressman Barney Frank weds in same-sex marriage
Few problems for chaplains as gays now serve openly



SAYINGS OF THE DESERT FATHERS:

Abba Ischyrion

The holy Fathers were making predictions about the last generation. They said 'What have we ourselves done?' One of them, the great Abba Ischyrion replied, 'We ourselves have fulfilled the commandments of God.' The others replied, 'And those who come after us, what will they do?' He said, 'They will struggle to achieve half our works.' They said, 'And to those who come after them, what will happen?' He said, "The men of that generation will not accomplish any works at all and temptation will come upon them; and those who will persevere in that day will be greater than either us or our fathers."


Thoughts and Sayings of Saint Margaret Mary: Peace- Trust- Abandonment

20. As regards your taking up your abode in His Sacred Heart, why should you fear? Our Lord Himself invites you to come to Him and take your rest in His Heart. Is It not the throne of mercy, where the most miserable are the most favorably received, provided that, although steeped in misery, they are drawn by love?



July 11, 2012



(Hos 10:12) "Sow for yourselves justice, reap the reward of loyalty; Break up for yourselves a new field, for it is time to seek the LORD, till he comes and rains justice upon you."





VATICAN RADIO

: Syria: An appeal for the truth

According to a Catholic charity's Middle East expert news agencies are misrepresenting the conflict in Syria, to the detriment of the civilian population struggling to survive an ongoing humanitarian crisis.

Fr Andrew Halemba, Aid to the Church in Need's Middle East projects coordinator says that media reports about the country should be treated critically and with great caution.

He said: "The situation in [Syria] is much more complex and difficult to assess than the media in the West make it out to be. "Many media outlets are simply turning in sloppy reporting. "They seem to be ignoring that there are also internal power struggles and religious tensions between the different Muslim groups, tribal feuds and acts of vengeance are a daily occurrence, and crime is rising in the country due to the unstable situation."

Fr Halemba explained that he was in constant contact with Church sources in the country. He said: "Some Western media reports are received there with great outrage. "People there feel exploited and deceived by international media. They complain that the West is only pursuing its own interests."



RELATED

: Syrian Christians fearful, visiting Archbishop warns



GEOPOLITCAL ANALYSIS VIA STRATFOR

: Considering a Sunni Regime in Syria



CATHOLIC RELIEF SERVICES

: Syrian Refugees Find Comfort and Aid

The violence that erupted in Syria in March 2011 has spiraled into a tumultuous, terrifying conflict and has led to paralyzing fear for innocent civilians—many of them women, children and the elderly. It's unclear exactly how many Syrians have been displaced by the fighting, but the United Nations estimated at the end of May that at least 500,000 Syrians had fled their homes for the safety of neighboring countries.

Through our global network of Church partners, CRS is helping thousands of Syrians who've been devastated by the humanitarian disaster. As the crisis worsens and more Syrians are forced to flee their homes because of the violence, CRS is expanding relief efforts for the conflict's victims. Our assistance to longtime partner Caritas Jordan is just one example. Working mostly in the northern Jordanian towns of Mafraq and Ramtha, Caritas Jordan provides basic necessities as well as medical care to thousands of Syrian refugees.

CRS board member Cardinal Theodore McCarrick, who has traveled around the world on behalf of CRS, visited northern Jordan in late June to meet with Syrian refugee families and witness firsthand the work CRS is supporting.

"It is a blessing for the tens of thousands of families who are forced to flee from the tragic violence in Syria to find food and medicine, and most of all comfort and solidarity, from CRS and our partners here in Northern Jordan. I am thankful for the generosity of our benefactors who make this possible," Cardinal McCarrick says.

Please help thousands of Syrians displaced by conflict. Donate Now.


Thoughts and Sayings of Saint Margaret Mary: Peace- Trust- Abandonment

19. Think no more of what people say, but of pleasing the Heart of Jesus alone, according to the lights He will give you. He loves you and He will never allow you to perish, so long as you trust in Him.



July 10, 2012



(Php 4:6-7)

Be nothing solicitous: but in every thing, by prayer and supplication, with thanksgiving, let your petitions be made known to God. And the peace of God, which surpasseth all understanding, keep your hearts and minds in Christ Jesus.





HEADLINE

: Roubini: My 'Perfect Storm' Scenario Is Unfolding Now

A "perfect storm" of economic factors is taking place at the moment, according to leading economist Nouriel Roubini.

Earlier this year, the Roubini Global Economics founder told the Skybridge Alternative Conference that he expects four elements to convene that will knock back the global recovery in 2013.

These factors are the US economy falling back into recession, the eurozone starting to break up, a slowdown in China and other emerging markets, and increased risk of conflict in Iran, CNBC reported.

Talking on Twitter this morning, Roubini said: "[The] 2013 perfect storm scenario I wrote on months ago is unfolding: EZ crisis, US stall speed, China hard landing, EM stall, MidEast time bomb." The economist, who earned the nickname 'Dr Doom' for his forecast of the financial crisis, added that the difference between the turmoil of 2008 and today is that "then we had all the policy bullets; now we running out of rabbits to pull out of the hat".

Roubini's comments follow data this morning which show Chinese inflation slowed to 2.2 per cent in June. This is down from 3 per cent in May and under the 4 per cent target.

Furthermore, Friday's US employment situation report revealed that jobs growth remains below the rate considered necessary for a sustainable recovery.

"The 2013 perfect storm scenario I wrote on months ago is unfolding: EZ crisis, US stall speed, China hard landing, EM stall, MidEast time bomb." Roubini also suggests policy easing by the Bank of England, European Central Bank and People's Bank of China will have little lasting effect on the world's stockmarkets.



VIDEO

: http://www.bloomberg.com/video/roubini-2013-perfect-storm-may-surpass-2008-crisis-_n0veqyhR2iioq1q6MySFQ.html



RELATED HEADLINES



Spain borrowing rate hits bailout danger zone of 7 pct ahead of eurozone bank rescue meeting
IMF calls U.S. recovery tepid, warns of 'fiscal cliff' ahead
Why Central Bankers Can't Arrest Slowdown


Thoughts and Sayings of Saint Margaret Mary: Peace- Trust- Abandonment

15. In everything and everywhere, I desire nothing but the accomplishment of the divine good pleasure, allowing the divine Heart of Jesus to will and desire in me and for me, just as He pleases. I am content to love Him alone: whatever He wishes me to love, that He will love for me.



July 6, 2012



THE TRIB TIMES WILL RETURN NEXT WEEK, GOD WILLING (James 4:15).

(Luk 20:24-25) Shew me a penny. Whose image and inscription hath it? They answering, said to him: Caesar's. And he said to them: Render therefore to Caesar the things, that are Caesar's: and to God the things that are God's.



Archbishop Chaput's Homily for the Closing Mass of the Fortnight for Freedom



Delivered during Mass at the Basilica of the National Shrine of the Immaculate Conception, Washington, DC, July 4th 2012.

Philadelphia is the place where both the Declaration of Independence and the United States Constitution were written. For more than two centuries, these documents have inspired people around the globe. So as we begin our reflection on today's readings, I have the privilege of greeting everyone here today — and every person watching or listening from a distance — in the name of the Church of my home, the Church of Philadelphia, the cradle of our country's liberty and the city of our nation's founding. May God bless and guide all of us as we settle our hearts on the Word of God.

Paul Claudel, the French poet and diplomat of the last century, once described the Christian as "a man who knows what he is doing and where he is going in a world [that] no longer [knows] the difference between good and evil, yes and no. He is like a god standing out in a crowd of invalids . . He alone has liberty in a world of slaves."

Like most of the great writers of his time, Claudel was a mix of gold and clay, flaws and genius. He had a deep and brilliant Catholic faith, and when he wrote that a man "who no longer believes in God, no longer believes in anything," he was simply reporting what he saw all around him. He spoke from a lifetime that witnessed two world wars and the rise of atheist ideologies that murdered tens of millions of innocent people using the vocabulary of science. He knew exactly where forgetting God can lead.

We Americans live in a different country, on a different continent, in a different century. And yet, in speaking of liberty, Claudel leads us to the reason we come together in worship this afternoon.

Most of us know today's passage from the Gospel of Matthew. What we should, or should not, render unto Caesar shapes much of our daily discourse as citizens. But I want to focus on the other and more important point Jesus makes in today's Gospel reading: the things we should render unto God.

When the Pharisees and Herodians try to trap Jesus, he responds by asking for a coin. Examining it he says, "Whose image is this and whose inscription?" When his enemies say "Caesar's," he tells them to render it to Caesar. In other words, that which bears the image of Caesar belongs to Caesar.

The key word in Christ's answer is "image," or in the Greek,

eikon

. Our modern meaning of "image" is weaker than the original Greek meaning. We tend to think of an image as something symbolic, like a painting or sketch. The Greek understanding includes that sense but goes further. In the New Testament, the "image" of something shares in the nature of the thing itself.

This has consequences for our own lives because we're made in the image of God. In the Greek translation of the Old Testament, the same word,

eikon

, is used in Genesis when describing the creation. "Let us make man in our image, after our likeness" says God (Gen 1:26). The implication is clear. To be made in the image of God is more than a pious slogan. It's a statement of fact. Every one of us shares — in a limited but real way — in the nature of God himself. When we follow Jesus Christ, we grow in conformity to that image.

Once we understand this, the impact of Christ's response to his enemies becomes clear. Jesus isn't being clever. He's not offering a political commentary. He's making a claim on every human being. He's saying, "render unto Caesar those things that bear Caesar's image,

but more importantly

, render unto God that which bears God's image" — in other words, you and me. All of us.

And that raises some unsettling questions: What do you and I, and all of us,

really

render to God in our personal lives? If we claim to be disciples, then what does that

actually mean

in the way we speak and act?

Thinking about the relationship of Caesar and God, religious faith and secular authority, is important. It helps us sort through our different duties as Christians and citizens. But on a deeper level, Caesar is a creature of this world, and Christ's message is uncompromising: We should give Caesar

nothing

of ourselves. Obviously we're in the world. That means we have obligations of charity and justice to the people with whom we share it. Patriotism is a virtue. Love of country is an honorable thing. As Chesterton once said, if we build a wall between ourselves and the world, it makes little difference whether we describe ourselves as locked in or locked out.

But God made us for

more

than the world. Our real home isn't here. The point of today's Gospel passage is not how we might calculate a fair division of goods between Caesar and God.

In reality, it all belongs to God

and nothing – at least nothing permanent and important – belongs to Caesar. Why? Because just as the coin bears the stamp of Caesar's image, we bear the stamp of God's image in baptism. We belong to God, and

only

to God.

In today's second reading, St. Paul tells us, "Indeed religion" — the RSV version says "godliness" – "with contentment is great gain. For we brought nothing into the world, just as we shall not be able to take anything out of it." True freedom knows no attachments other than Jesus Christ. It has no love of riches or the appetites they try to satisfy. True freedom can walk away from anything — wealth, honor, fame, pleasure. Even power. It fears neither the state, nor death itself.

Who is the most free person at anything? It's the person who masters her art. A pianist is most free who — having mastered her instrument according to the rules that govern it and the rules of music, and having disciplined and honed her skills — can now play anything she wants.

The same holds true for our lives. We're free only to the extent that we unburden ourselves of our own willfulness and practice the art of living according to God's plan. When we do this, when we choose to live according to God's intention for us, we are then — and only then — truly free.

This is the freedom of the sons and daughters of God. It's the freedom of Miguel Pro, Mother Teresa, Maximillian Kolbe, Dietrich Bonhoeffer, and all the other holy women and men who have gone before us to do the right thing, the heroic thing, in the face of suffering and adversity.

This is the kind of freedom that can transform the world. And it should animate all of our talk about liberty – religious or otherwise.

I say this for two reasons. Here's the first reason.

Real freedom isn't something Caesar can give or take away

. He can interfere with it; but when he does, he steals from his own legitimacy.

Here's the second reason.

The purpose of religious liberty is to create the context for true freedom

. Religious liberty is a foundational right. It's necessary for a good society. But it can never be sufficient for human happiness. It's not an end in itself. In the end, we defend religious liberty in order to live the deeper freedom that is discipleship in Jesus Christ. What good is religious freedom, consecrated in the law, if we don't then use that freedom to seek God with our whole mind and soul and strength?

Today, July 4, we celebrate the birth of a

novus ordo seclorum

- a "new order of the ages," the American Era. God has blessed our nation with resources, power, beauty and the rule of law. We have so much to be grateful for. But these are gifts. They can be misused. They can be lost. In coming years, we'll face more and more serious challenges to religious liberty in our country. This is why the Fortnight for Freedom has been so very important.

And yet, the political and legal effort to defend religious liberty – as vital as it is – belongs to a much greater struggle to master and convert our own hearts, and to live for God completely, without alibis or self-delusion. The only question that finally matters is this one:

Will we live wholeheartedly for Jesus Christ

? If so, then we can be a source of freedom for the world. If not, nothing else will do.

God's words in today's first reading are a caution we ignore at our own expense. "Son of man," God says to Ezekiel and to all of us, "I have appointed you as a sentinel. If I say to the wicked, 'you will surely die' – and you do not warn them or

speak out

to dissuade them . . . I will hold you responsible for their blood."

Here's what that means for each of us: We live in a time that calls for sentinels and public witness. Every Christian in every era faces the same task. But you and I are responsible for

this

moment. Today. Now. We need to "speak out," not only for religious liberty and the ideals of the nation we love, but for the sacredness of life and the dignity of the human person – in other words, for the truth of what it means to be made in the image and likeness of God.

We need to be witnesses of that truth not only in word, but also in deed. In the end, we're missionaries of Jesus Christ, or we're nothing at all. And we can't share with others what we don't live faithfully and joyfully ourselves.

When we leave this Mass today, we need to render unto Caesar those things that bear his image. But we need to render ourselves unto God — generously, zealously, holding nothing back. To the extent we let God transform us into his own image, we will – by the example of our lives – fulfill our duty as citizens of the United States, but much more importantly, as disciples of Jesus Christ.



MORE FROM ARCHBISHOP CHAPUT

: 5 Crucial Components of Religious Liberty

RON SMITH REPORTS

Attending an Illicit Civil Wedding of a Catholic
Various Liturgy Procedural Questions
Morality of Sex Change Surgery
Laity Conducting Funeral Services
Parish Membership by Family Card
Required Words of Absolution
Letter to Bishop Lennon
Pornography
Two Tabernacles


Thoughts and Sayings of Saint Margaret Mary: Peace- Trust- Abandonment

14. What have you to fear except to lose that confidence in Him, which constrains Him to stoop from the throne of His omnipotence and condescend to come to the aid of our weakness?

Links
E-mail Dr. Zambrano
Home
Jubilee 2000: Bringing the World to Jesus
The Tribulation Times Archives:
FAIR USE NOTICE

: This site contains copyrighted material the use of which has not always been specifically authorized by the copyright owner. We are making such material available in our efforts to advance understanding of environmental, political, human rights, economic, democracy, scientific, and social justice issues, etc. We believe this constitutes a 'fair use' of any such copyrighted material as provided for in section 107 of the US Copyright Law. In accordance with Title 17 U.S.C. Section 107, the material on this site is distributed without profit to those who have expressed a prior interest in receiving the included information for research and educational purposes. For more detailed information go to: http://www.law.cornell.edu/uscode/17/107.shtml. If you wish to use copyrighted material from this site for purposes of your own that go beyond 'fair use', you must obtain permission from the copyright owner.